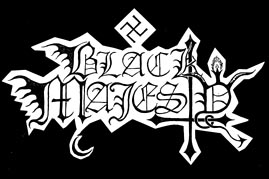 -BLACK MAJESTY-
Black Ritual/Occult Death Musick.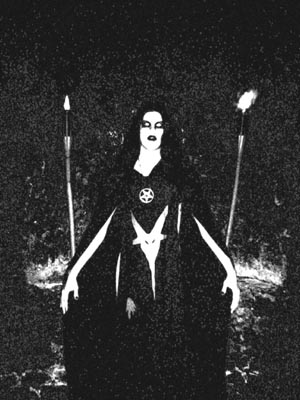 DISCOGRAPHY
"Baphe Metis" (demotape) - 07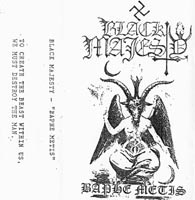 "Ateh Gibor Le'olam Shaitan" (demotape) - 07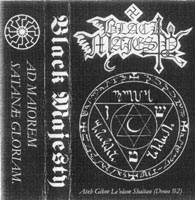 BIOGRAPHY
BLACK MAJESTY was created in the fifth year of the black millenium as a musickal and lyrickal manifestation of thoughts and ambiences recived through the Great Work.
The black morbid poetry is ideological cerebrations of death-worship, black magick and traditional Satanic philosophy with ariosophic and superanthropic ideas.
In 2007 e.v. BLACK MAJESTY and FULL MOON PRODUCTIONS made a pact for the release of the album "Shaarhameth",
a work consecrated to the Grand Arcanum of Death and spirit.
"Through the Eye of Wisdom, and in the black and tenebrous light of the spiritual semen once sown as a memory into my soul - tainting every fibre of my microcosm,
I behold the dawn of a new Satanic race (the sixth and last before enterin the throne of Satanas) and a new spiritual æon.
For the Superanthrope of the noble race of flesh will, through the gate of death (Daath), give birth to a new race of spirit (Chaos)."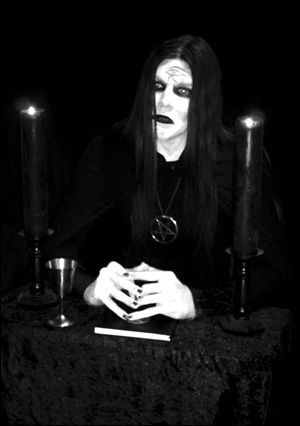 SATANAS FORTITVDO MEA - TE ROGO
QVI INFERNALES PARTES TENES
PER TVAM MAIESTATEM - IN ME
ILLVMINATIO MEA IN ÆTERNVM
ET IN SÆCVLVM SÆCVLI
FLESH ALTAR UNFOLD
Flesh Altar unfold
Before the horned Portait
Lit by a single black Candle
Through a floating Haze of Incense
Hail Baphomet!
Let the human Cranium
Which lieth before me
Upon black Cloth
Serve me as a Chalice
To drink the arousing Wines
My Altar has to offer
Hail Satan!
I am Thy Church!
THROUGH DEATHWOMB DAATH
Under a Veil of astral Mist
I lieth Death Posture
Lead me Chaos and old Night
Through the Desert of Sut-an
(Where Nothingness dwells)
Ah! Let me drink from Thee
Abyssal Well of the Night-side
Appear! Thou great Guardian!
Let me transcend Thy Gateways of infernal Mysteries
Under the Moon of Harab Serapel
And into the Sphere of Samæl
Where I shall raise my Throne
ERÔ SICUT SATANAS!
BLACK MAJESTY (nor)
Shaarhameth (FMP 0xx)
Release date: Unknown

Black Ritual/Occult Death Musick.
Black Majesty music samples Click Here to view.

Black Majesty c/o E.B.
PO Box 18 Tiller
7475 Nidaros
NORWAY