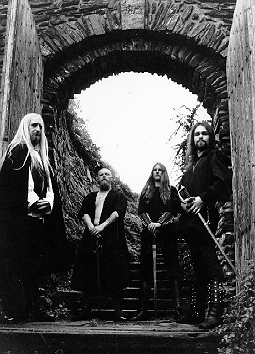 Hades was formed in 1992 by Jorn, and ex-member of IMMORTAL, because he wanted to create a music style that was filled with melancholy, desolation as well as atrmosphere, mystery and folklore. Remi (ex-member of Dark) joined as a drummer wtih thunder in his black soul. He also wanted to create a music style with no-lack of originality and true unholy feelings. Stig joined the band as a second guitarist and Janto later as a vocalist and bass player to complete the legendary northern black metal band Hades.
In the year of 1993, Hades recorded their first demo entitled "Alone Walkying" in Greighallen Studios (Bergen) and produced by the mighty Pytten. The demo contained three tracks, "Unholy Congregation", "Hecate (Queen of Hades)" and the title track "Alone Walkying". There was a response, so Wounded Love released it on cassette and later on MCD. In 1994, Hades recorded their debut album, Jorn was arrested and imprisoned for the charges of church burning (assisting Varg Vikernes of Burzum for the burning of a Stav Church). Impacient in jail, Jorn managed to write seven new tracks for their newest and darknest release to be unleashed! In 1996 the Norwegian kings Hades returned to Greighallen Studios and recorded their masterpiece CD/CS/LP entitled "The Dawn of the Dying Sun". Bringing life to the excellence experianced in such bands as Bathory and Enslaved yet surpassing them with their originality and style. These black metal viking, warriors display why they are the masters of the scene. Discography HADES "Alone Walkying" demo '93 HADES "..again shall be" CD '94 HADES "Alone Wallking" MCD '96 HADES "The Dawn of the Dying Sun" CD '97
Updated information:
DISPLEASED RECORDS TO REISSUE "...again shall be" and "Dawn of the Dying Sun" with bonus material.
The band is now known as HADES ALMIGHTY, here is their website:
OFFICIAL HADES ALMIGHTY WEBSITE